---

---
Speaking to Gambling Zone, ex-Leeds United, Manchester United and Newcastle United star Alan Smith agrees with Erik Ten Hag's appointment of Bruno Fernandes and hopes the Dutchman deploys a 4-2-3-1. 
He also opened up on his controversial move from Elland Road to Old Trafford in 2004 and the impact of the horror injury he suffered at Anfield two years later. 
---
---
What formation should Erik ten Hag deploy to get the best from Rashford, Bruno, Mount and Sancho?
AS: "I'm pretty sure Ten Hag will deploy the 4-2-3-1 that he used last season. Bruno gives you so much, with his passing range and his goals. Bringing Casemiro in was a masterstroke to release Bruno more, and we saw the rewards of that. 
"I thought they looked really good in pre-season, especially the interplay. They look like they have so much athleticism going forward, they look exceptional going forward with so much pace and power. 
"But the more you throw players forward the more you leave yourself vulnerable at the back, especially if your full-backs are going forward. He will be trying to get that balance. 
Last year, the defensive record was good. Combining that will give him a winning formula to go as close as possible this year. Internally there will be hope they can push all the way and I'm sure they will do more business before the window closes. 
I feel last season Man Utd were not really spoken about as title contenders, but this year I think they will go close." 
Do you agree with the appointment of Bruno Fernandes as captain?
AS: "I agree with the appointment of Bruno as captain. He seems to want to drag the best out of everyone else and that he demands a lot. I read that he trains hard, and people only see game day but there's so much going on behind the scenes. There are people demanding standards in training. 
"The manager sees that and no one else does, and what I've heard is that he was an outstanding candidate based on everything he brings, not just his output even though his goal contribution was amazing. Giving him more responsibility will help him, he looks like he likes it and it may take him to another level." 
---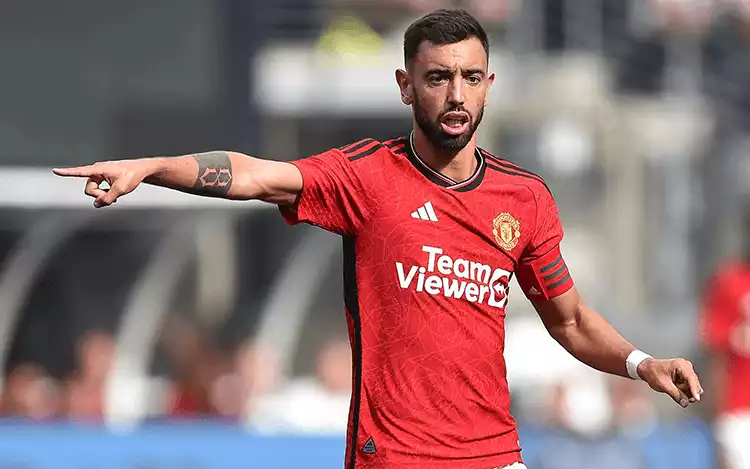 Smith agrees with Fernandes decision
---
The cost of making Bruno captain was stripping the armband from Harry Maguire. Was that a wise decision?
AS: "Realistically I think Harry Maguire knows he's not going to play every game, he's probably come to terms with that. But I think it will be up to Harry if he stays or goes. I suspect Ten Hag doesn't want him to go because to go close you want those type of people at your club. He could play 20 games and be really consistent.  
"When he first came there was a lot of pressure after that price tag to give him the armband anyway, and both pressures must have been difficult for him. It might help him to release some pressure if he stays. You look at other clubs, and to compete you need four class centre-backs to compete or at least three. He's probably got a bigger part to play than people think. If they want to win the league and be successful in Europe they will need strength in depth. It will be up to Maguire if he needs first-team football every week. 
"When Sir Alex Ferguson was manager there were four class strikers, four class central defenders, numerous class midfield players. But if you didn't play Premier League at the weekend you would be playing on Tuesday or Wednesday night. If I were the manager I would want to keep him, but as a player he probably wants to play every week."  
Who was the best captain you played under? 
AS: "I played under some very different captains. Lucas Radebe at Leeds led by example more than his voice or drive. Rio Ferdinand was quieter and more placid, then you had Roy Kean who was vocal, he'd lead by example on the field but he was vocal and demanding.  
"You can't say who was best because the manager doesn't take this decision lightly. He's looking around at a dressing room of 25 players, thinking who is going to lead this group? Who understands me as much as the next person? Who understands what I want from my players?  
"There is so much work done behind the scenes to appoint a captain. In England it's always been a bit different, abroad it's always the best player who wears it, the Messi or Maradona of the side. In Europe it's more about goalkeepers, defenders and defensive midfielders who can see the whole picture and dictate. 
"I've had great captains and to play under those names is something you dream about. I was so appreciative to learn so much from them. I always loved football and love it now, when I went to Man Utd I would speak to the older players and pick their brains, asking how I could improve. Very few have replicated their longevity and sustained such a demand year in and year out." 
---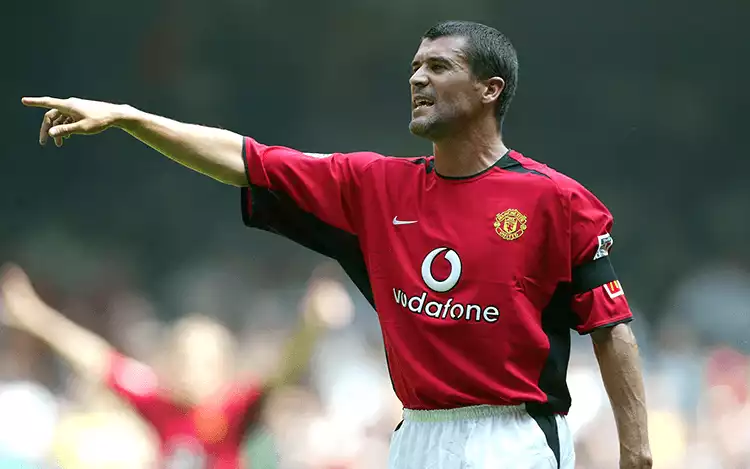 Keane the most vocal of captains
---
Do you recall any occasions where the armband weighed a player down?
AS: "I can't recall an instance where the armband weighed a player down, the manager always takes a lot of time to consider this and get it right. The player's personality dictates who gets it. Sometimes it's not about being the best player every game, sometimes it's Monday to Friday, how much work do they do?  
"Will they be on my team sheet all the time? A lot of thought goes into it."  
Your playing style was all-action. You trained with players who were also like that, from Roy Keane to Alan Shearer. Did tempers ever boil over in training with those players?
AS: "Tempers didn't boil over between me, Roy Keane and Alan Shearer, but at a good club fights happen all the time. Nowadays there's a big fuss over a fight, but players kick each other every day because you want to win. Players trained as they played. You're up against the best in the country every single day, you're trying to prove to the manager that you should be in the team. Training took care of itself and was as difficult as matchday because it was full-on. 
"People had fights all the time because they cared. You would have fights with your best mates more than people you didn't really like. The camaraderie of the club was dictated by players criticising each other, they might not like but that's what I found. Top players are the same, they want to win. Some are more vocal but it doesn't mean they care more than someone who's quiet.  
"Since the class of 92 you've probably never seen that many academy players who think like that integrated in one go. 
"In training there were always fights, not just physical but people wanting to win games." 
---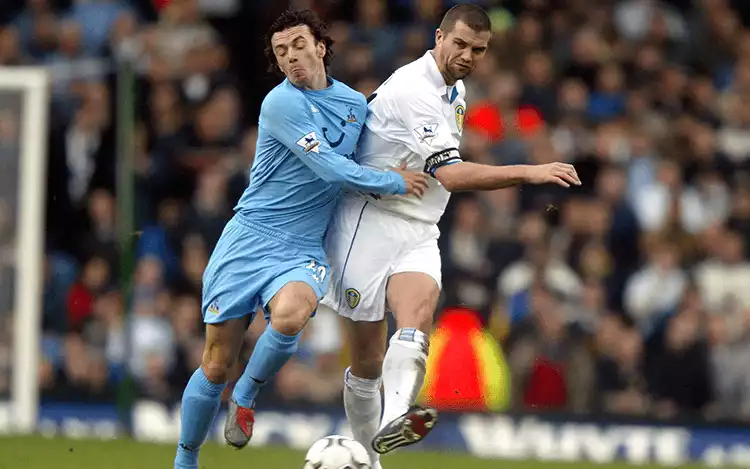 Smith fell-out with Matteo during their time at Leeds
---
Do any stand out from your time at Leeds, Man Utd and Newcastle?
AS: "Dominic Matteo and me had a fight at Leeds where it probably lasted around a week. We were best mates at the time and we didn't speak to each other for around a week which was funny looking back, he kicked me and I kicked him. 
"But it's natural, it happens. There was obviously pressure, we were fighting relegation and tensions were high. We were fighting each other, getting sent in from training and you felt the pressure demanding off each other and the ones you are closest too, and sometimes it boiled over." 
How did Cristiano Ronaldo deal with players being aggressive in training?
AS: "Cristiano Ronaldo was used to players going in hard on him, it probably helped him. I was starting at the club during his second year and he had such a rapid rise. It was probably down to him getting used to the close attention he got in training and on match day. You saw him develop his physicality. 
"Within the club, you don't want to injure teammates but it was always competitive, just never to a point of risking injury to someone." 
Do you have confidence Andre Onana is an upgrade on David de Gea? 
AS: "I can't say I know how great Onana is, I've not seen enough of him but you would hope recruitment at the club feel he is offering something new to David de Gea. He got player of the year for so many seasons, but as a club that's not always a stat you want.  
"I'm sure they would love Onana not to make many key saves at all this season. There was talk before the Champions League final of how good he was, and you could see how comfortable with his feet which is what Ten Hag wants. 
"He's younger than De Gea too so offers longevity for the next 5, 6 or 7 years. He looks confident too, he's not a shrinking violet, which is important if there's a mistake he needs to bounce back from. He was playing at Inter which is a huge club, playing in the San Siro every week prepares you." 
---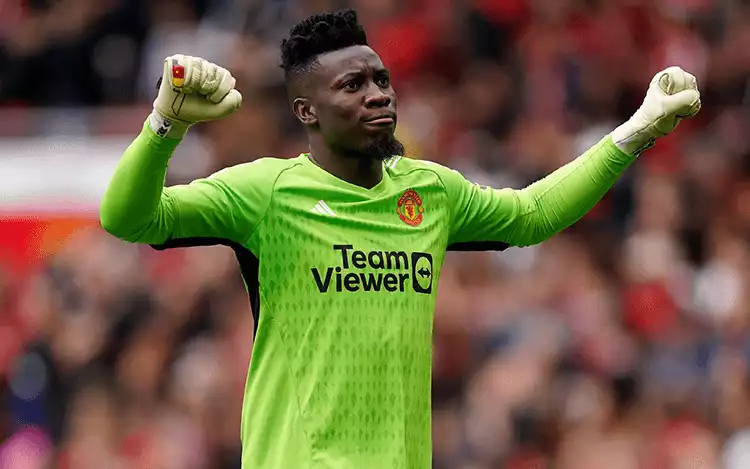 Andre Onana looks confidence
---
What was it like playing in the San Siro at such a young age?
AS: "My brother and I recently went to watch Juventus train in Florida. If you're my age, Italian football always makes you nostalgic as that's what we used to watch on Channel 4. We watched it religiously every week. So playing these players, like Paulo Maldini, was a dream come true because I'd watched them. 
"Those days were special. I'd only seen the San Siro on TV so to go there in real life was special."  
What was the best atmosphere you have played in?
AS: "The best atmosphere I have ever played in was at Old Trafford, when we beat Roma 7-1. It was crazy, the loudest I've ever heard. There had been a bit of trouble outside with fans, and there had been a bit of trouble in Rome in the first-leg too.  
"Tensions were running high and European nights at Old Trafford are always special, it was an incredible night. It was also my first game back after my injury, I had been out for 16 to 17 months which made it even more special. 
"On that night, it was louder than any atmosphere I've heard at Anfield. I've never played on a European night at Anfield but I know it's special too. European atmospheres in England are special. I was at Celtic Park when Man Utd lost there, when Shunsuke Nakamura scored that free-kick, and I've been to an Old Firm too and they were loud. 
"But the Roma game meant so much to me. Elland Road is loud too, bouncing, we had incredible European nights there. Unfortunately you didn't have video recording in those days, I'd love to find some and relive them. European nights for English sides are the most memorable. 
"With West Ham winning the Europa Conference League it had everything you would need to learn about football. David Moyes can retire a happy man for what he achieved that night, and regardless of who you support it's so nice to see people who are emotionally involved in the game. 
"These days players have to be a little more robotic in the way they are. I feel fans still like someone who is connected to them. Premier League is amazing and it's global, but I still feel the mid 90s to early 00s was a real special time for football. I feel like you had such characters and such big rivalries. We still see that now with managers like Moyes, who's still involved. You could see the trophy meant the world to him when he was dancing with his dad. 
"That's the bread and butter of football."  
Man Utd are being linked with midfielder Sofyan Amrabat. Would that be a good signing?
AS: "I think signing a midfielder like Amrabat depends on his plans for the younger players in his team, who play in the same position as him. 
"I'm sure Ten Hag knows where he will fit him in. 
"I feel like Alejandro Garnacho will be an important player this season. He looks like he's stepped up a gear, and I'm excited to see him progress. He's just signed Hojlund, Rashford comes in from the left and Antony plays on the right, but it will be really interesting to see another striker. 
"I'm sure everyone would like to see Harry Kane there, he would also be a loss to English football if he went to Bayern. He's probably thinking his legacy may be ruined if leaves Tottenham for Man Utd, but I don't think that would be the case. 
"If you look at how well he's done, I feel Kane is turning into Teddy Sheringham. A little different to him but similar in the way Spurs was his club but he went to Man Utd, so I feel it would be a shame if we lost him from the Premier League. 
"I'd like to see him stay at Spurs but if he's going to go I want him to stay in the Premier League. But I feel that if Ten Hag wanted him, it would have been done by now. 
---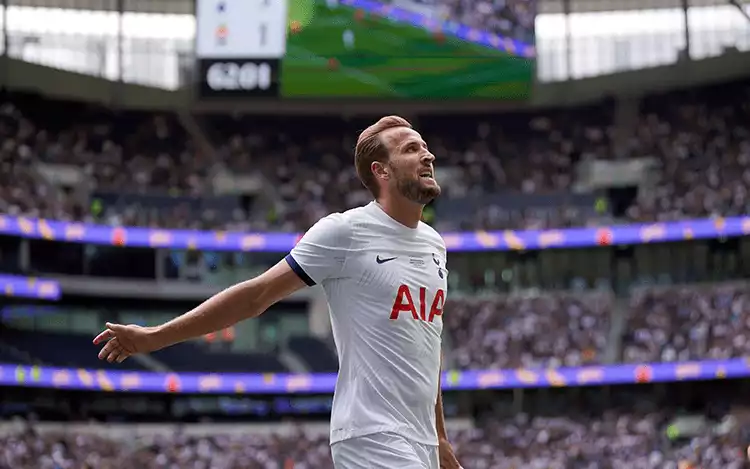 Smith believes United should make Kane offer
---
Should Man Utd move for Kane even though they have just signed Hojlund?
AS: "I think Man Utd should move for Kane despite already signing Hojlund because he's only 20, he's a young lad. He'd be able to learn from Kane. He's more of an old-fashioned number 9, whereas Hojlund is a little more in behind. I feel there's space for one more and there could be a surprise towards the end of the transfer window, and it could be Kane. 
"I can't really think of anyone else who would fit the bill to play up front for Man Utd, no one jumps out other than Harry Kane." 
If you had to predict the top-four, what would it look like?
AS: "I think the top-four, not in this order, will be Man Utd, Man City, Arsenal and Liverpool. I was speaking to Newcastle fans who felt that if they finished in the top-six that would be a good season, so I think their expectations are not too high. They know Eddie Howe is doing a great job and growing the club gradually. Because they have Champions League football I feel that will be a big task for them to finish top-four and have a good run in the Champions League, so that's why I feel they won't quite make the top-four. 
"Chelsea are a work in progress. Pochettino will get it right, but top-four will be difficult because there has been so much change. Then there's Tottenham, whose success will be determined by what happens to Harry Kane. Brighton will be looking to build on what they did last year. 
"It will be interesting but I think the top four will belong to Man Utd, Man City, Liverpool and Arsenal. Liverpool had an off-season but I think they will be stronger than they were. I hope Newcastle can do well in the Champions League and finish top-four, but as we experienced at Leeds, being in the Premier League and Champions League is very tough."
Do you back Newcastle to go far in the Champions League?
AS: "The group stage will determine how far Newcastle go. If I could get to one game this season it would be St James' Park for a Champions League game, because that will be absolutely bouncing. They have not had Champions League football since the early 00s.  
"Last year they pressed so well, front-foot. I hope they can emulate what we did at Leeds, go under the radar and have a good run. But they might get a difficult group. I'm sure no one will fancy going to St James' Park on Wednesday night, especially if it's a bit chilly up there. 
"For their fanatical support it's nice to see, they have supported their club through thick and thin."  
Do Leeds fans still give you a tough time for joining Man Utd?
AS: "I live in Florida, US, these days so I don't meet many Leeds fans! I understood how they felt, but when I left to go there we weren't in the same league despite the rivalry. We weren't in the same league for 16 years. I knew the reasons why I left and I knew there was a lot of criticism inside the city, and I got that, I knew it was coming. I was there when Eric Cantona and Rio Ferdinand went to Man Utd, Gordon McQueen, people who had left the club and were criticised. 
"I understood that, but I also understood where Leeds were at the time. Most people I had grown up there with had left the club because of financial difficulty. I'm not just talking about players and management, I'm talking about the laundry ladies, the kit man, the people behind the scenes, the catering staff you'd have breakfast with. They had all left the club because the club had made them redundant.  
"It was difficult to see and the only people who really lose out are the supporters because they feel betrayed, they think you're a Judas. But I feel most of them understood the reasons why.  
There's always someone else too. My dad used to say to me there have been players who left, and the fans wanted them to leave because they're not very good. So for the fans not to like you leaving, it shows you've done well and that you're good. 
"I'm glad that eventually Peter Lorimer came out and told the real story. There were things going round at the time that were untrue, and I understood people were trying to save their own skin. The chairman and owners were trying to protect themselves rather than being honest with what occurred. I never really spoke about it because people would have thought I was making an excuse.  
"And I didn't need to either, I didn't need an excuse to join one of the biggest clubs in the world. I felt I deserved to go to a club of that stature. There are not many people who get relegated and then sign for one of the biggest clubs in the world. From a footballing point of view, I could never turn it down. Everything you have worked for from being a kid is meant for this. 
"I look back and think, why should a destination dictate how people see you? It shouldn't matter who you're playing for. I was an academy product at Leeds I hoped everyone was proud of, I'd been there since 10 and had gone on to play for one of the biggest clubs in the world. I don't think it's ever happened before. I felt sorry for the people who had put so much work into me. I was part of the club as a youngster, but they're not allowed to speak about me as an academy graduate because of the club I went to? It's a shame because no one really speaks about it, but surely Leeds should be proud. Kalvin Phillips went to Man City, in the same league, and everyone says it's wonderful an academy graduate has gone to them. So what's the difference? 
"I never left to go to someone in the same league, but because of my choice of club everyone frowned upon it. Historically if you're not in the same league you can't really be a competitor, so when you look at it like that, I always think there were players who left to play for smaller clubs than Leeds, and I found that a bigger scourge than anything else. 
"I had the opportunity to go to clubs I felt were a sideways step in the Premier League. But if I was going to leave Leeds, I only wanted to go to the best club possible. And there are not many clubs in the country bigger than Leeds, in my opinion. So for me I was only going to join a bigger club than Leeds, otherwise I'm not doing myself any favours. 
"It would have been more of a scourge to go to a smaller club than Leeds, but who were in the Premier League. That's how I look at it and how I can live with my decision. If my destination had been AC Milan or Juventus, people would have said how brilliant it was. So surely Man Utd is very similar?" 
---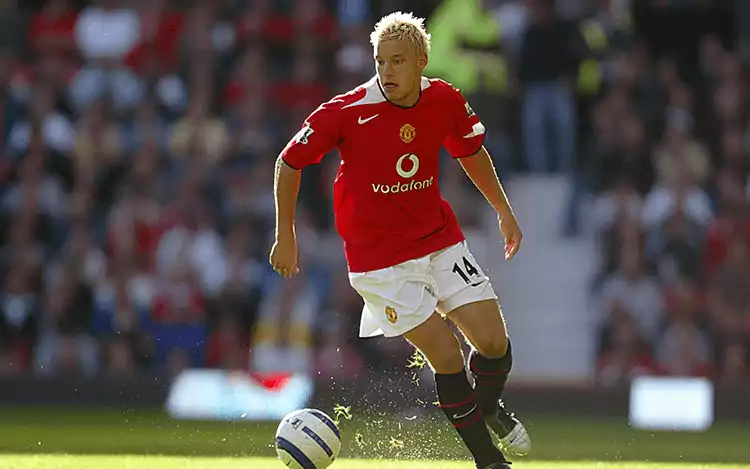 Leeds fans critical of United switch
---
Who is the most professional, and unprofessional, player you have played with? 
AS: "I was fortunate and don't recall playing with anyone who was unprofessional. My clubs were very professional the whole way through. And I'm so structured in my ways now because of people at those clubs. Some people question my reputation but that could not be further from the truth than humanly possible. I had so much respect for everyone I played with because I love football so much. When you're on the field with people, the lack of respect would be if you don't feel you should be on there with them. If someone kicks you, you kick them back, if someone wants a scrap, you'll have a scrap, it's always been part of my DNA. I'm still the same now, I just want to win. It's instilled in you. 
"The professional aspect of all the clubs I've played for has always been top. I've never had a drink of alcohol in my life based on the fact that if I fail, I want to fail under my own steam and not give myself any excuses which I never have done. 
"I could have cried about the injury I got at Anfield and let it ruin my career. People say you're not as good as you used to be, well I know why, I'm playing at 50% at what I used to be. Therefore you're never going to be able to replicate what you were previously. You have to reinvent yourself to be somebody completely different to what people perceived you as before. I was fortunate to be at clubs where it demanded professionalism, the staff all the way through to the players. Did we have a chance to enjoy ourselves? Absolutely, because every big club does that. All top clubs know when to allow players to let their hair down. It's about getting that combination right.  
"There are probably numerous players who are so professional. That's why going to Man Utd was such a great fit for me. Even on days off, you were always there. Everybody loved being there because it was what we all wanted to do. People loved playing football. I don't really sense that from players now. I tell parents at this school now that I'm with, my first wage was £40 a week. People would say, I'm not letting my son do that when he leaves school. But it was never even an option. If someone said sign that, you would sign it in a heartbreak at the opportunity of being a professional footballer. I feel like that's what every player was like and that's why I was so happy to be involved in the old-school football I grew up with.  
"I shied away a little from the new breed of football. I surrounded myself with the older players because I wanted to know what gave them longevity in playing. I may not have been at the top level all my career, but I played until 2012 in the Premier League. So from 97 to 2012, I was just as proud to play for MK Dons and Notts County when I finished as I was at any club. Although no one even knows you're still playing, I wanted to play because I enjoyed it. It would have been so easy to retire. Some people say they want to retire when they're no longer good enough for the Premier League, well that moment in time you have to remember why you started. I saw lads at Notts County who were sleeping on sofas just because they couldn't afford to rent on their own. In one house, whoever was playing on Saturday got to use the bed because there were three of them in a two-bed house. That opened my eyes to what some of these lads go through in the lower leagues and it's amazing. 
"I was so respectful, because those lads will have to work when they're finished playing. They're not earning life-changing money any more than a normal person who goes to work. 
"I never wanted to give football up, it's the hardest day of your life when someone goes, you can't play football anymore. It's like being a kid in a playground when someone takes your ball off you and say right, you can't have this anymore. You have a lifespan, 37 now and you're done. You have to come to terms with that and I'm glad now there's a lot of help for players when they come out of football. That no man's land period for a lot of people is a very difficult time.  
"I loved football and wanted to play as long as possible, but my body wanted to give up on me. My mind was telling me to keep playing, my mind was saying you've probably gone a decade too long!"  
---