---

---
On VAR
Another weekend, another VAR controversy, with Liverpool having a legitimate goal ruled out against Tottenham. Liverpool labelled the incident unacceptable. It seems that every weekend there are big mistakes with VAR…
Every weekend there are problems with VAR or the referees. The idea behind the technology is to try to help eradicate referee mistakes because, sometimes, it isn't easy for them to make the right decisions.  
Now, we're seeing more and more mistakes with the VAR. When the technology isn't working or there are the same mistakes, then I think it is right to question the future of VAR or, at the very least how it is used.  
Everyone that watches football or plays football hates it when we have to wait for goals to be awarded because of VAR. How long are we waiting for? Sometimes these decisions can take far too long, and it kills the atmosphere and the tempo of the game.  
Handball decisions and penalties awarded
I have to stand up for my fellow defenders. The handball in the box rule, that is an example where the rules seem to be implemented by people that don't understand how to play the game. Some of the handballs are not fair. There is nowhere a defender can put his hand or get it out of the way of the ball – these are not deliberate attempts to use the hand to stop a goal.  
I have to be a lawyer of the defenders (laughs)! It really upsets me to look at the way defenders need to manipulate their body shape and put their hands behind their back to make sure they don't hit the ball when they are making a block. It is impossible to defend properly when you have to put your hands on your back like that.  
It seems like some of these rules are in favour of the strikers and the authorities want to give fans more goals. As a defender, I have to be upset by this.  
---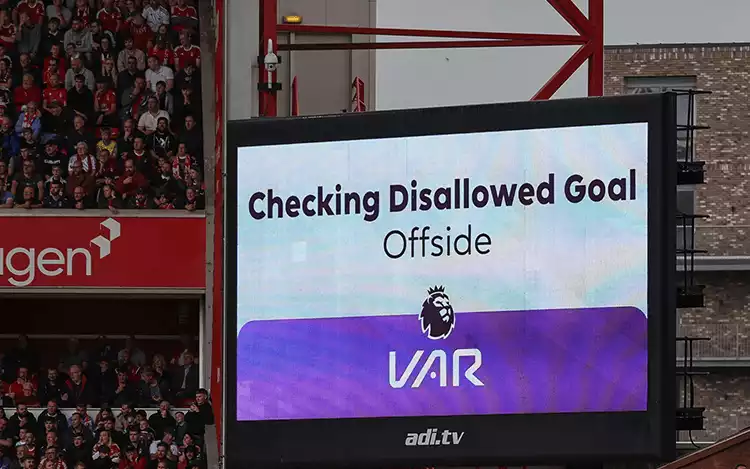 VAR under the spotlight again
---
As a player, how would you have reacted to being on the receiving end of a referee injustice and poor VAR decision-making and do you think that the referees should be made to come out and explain decisions after a game? I think everyone involved with football, from managers, players and fans would be more sympathetic or accepting of these wrong decisions if we were given the information as to why they were being made? 
It looks like that soon enough, football will introduce something similar to American football where the referee is mic'd up and communicates every decision to the players, the crowd in the stadium and everyone that is watching at home. Every decision will be broadcast. It looks like that is the future of football. 
Is that a good or bad thing in your opinion? 
Listen, football has changed a lot over the last few years. There have been too many changes. Football people are frustrated. We can't even celebrate properly anymore when our team scores. We just want to watch the game and have a good time you know (laughs).  
One of the ideas that has been discussed in the media to improve the standard of refereeing is to recruit ex-players as referees…
The referees have to be fit! Some former players, they are not fit anymore (laughs). Some of these guys have got big bellies and they are enjoying their life… I don't think any top players that have just retired would consider becoming a referee. No player, would want to become a referee after having a career at the top. No player would want to deal with top players.  
I can't see a world where any top player would ever want to be a referee. 
---
On Fulham vs Chelsea
What did you make of the performance against Fulham, William?
It was an easy game for Chelsea. It's very difficult to find positive things to say about Chelsea because the opponent was so poor – you expect Chelsea to be winning these games. OK, a win in the derby, that's good but the opposition made things very easy.  
---
On Mudryk
I was really pleased to see Mudryk score and I think that he has been gradually improving this season. It was a shame that he couldn't play in the second half. After he scored, you could see the release of pressure that he felt. 
You could see that his team mates were really happen for him after he scored because most of his performances since he signed for Chelsea haven't been good enough. You can tell that there is a player in him though and, with more games, I think we will see a much-improved Mudryk.  
I hope that the goal will give him the confidence that he has been lacking and will be the start of something special happening for him at Chelsea. Tonight, getting your first goal for the club, he will start to feel the confidence and hopefully he can start to show his true self.  
I'm sure it must have been a very difficult situation for him; he would have been feeling the pressure after the start that he has had and the expectations that people have on him after he joined the club for such a big fee. We also can't forget what is happening in his country. He's had a lot to deal with and is still a young player. It hasn't been an easy introduction for him at Chelsea.  
He is the type of player that defenders really hate playing against because he has the ability to go inside and outside.  
He is so quick and has good technique. He isn't tall, but physically, he can challenge most players. He is strong.  
On Mudryk's potential and Ronaldo comparison
I think he has all of the attributes to become a top, top player. We can all see that he has the ingredients, we are just waiting to see his real quality. He makes things look really easy. The way that he can accelerate past players, he makes his opponent look slow.  
One player that was a little bit similar was Cristiano Ronaldo. When Cristiano was younger and first came to the Premier League, he showed that he had all of the technical ability and the pace. He showed incredible skill with his stepovers.
Everything he did on the pitch was fast. Mudryk has some similar movements. I think when he can put everything together, it will be very difficult to stop Mudryk. He has the same ability as Cristiano Ronaldo, Neymar and Mbappe when it comes to his ground speed and acceleration. 
---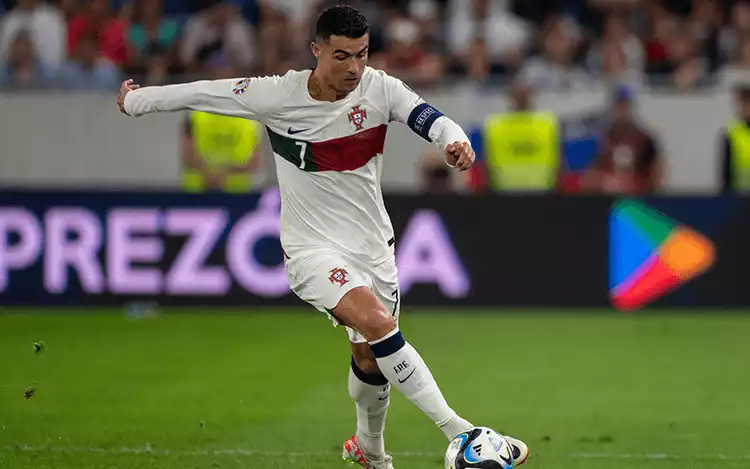 Mudryk has Ronaldo's pace and acceleration
---
 What positives would you take from the game against Fulham?  
I like the balance of Chelsea's left side. I have been impressed with Levi Colwill – he had a great game against Fulham – and you can tell that he is starting to develop a good understanding with Mudryk.  
We know that it has been a difficult start to the season for Chelsea. For me, Colwill has been one of the only positives so far. 
He had a great game for Chelsea against Fulham. He's a young player that is improving with every match. Physically, he is very strong and against Fulham he showed his technical quality with the assist for Mudryk, which is a part of his game that is also good. That was a quality ball for Mudryk's goal.  
I'm confident that the relationship between Colwill and Mudryk will become stronger and stronger in the future. They have to keep playing more games with each other to keep building that relationship and understanding, but that is one part of this team that looks like it will give opponents problems.  
Mudryk is so fast. He makes everything look easy and plays the game at a tremendous pace. Maybe he needs to be a little bit more patient when he plays his final ball.  
On Chelsea's youth problems
Fernandes has unbelievable quality with his passing range. We know Chelsea have some brilliant young players. The biggest problem that Chelsea has is that there are too many young players that are all learning and adapting at the same time. There has been so much change over the course of a year within the club.
The dressing room is full of new players who are learning all the time. We know that it will take time for this group to gel together and to start competing for the Premier League title again. This season Chelsea won't qualify for the Champions League because if they have to play against one of the better teams in the league, they will be in trouble.  
You were an integral part of probably the best defence the club had in its history. When you look at this current back four, with Thiago at its heart, an experienced player, leading it…
Thiago is the main man. I know that Chelsea have so many injuries, especially to players at the back, but Thiago Silva shouldn't be starting games every single week at the age of 39. That isn't normal. I hope that Chelsea can give him a rest. The more games he plays at his age, the bigger the injury risk is to the player.  
I think it's a shame that Chelsea are so reliant on Thiago. A club like Chelsea shouldn't need to play him in every game to win, especially against an opponent like Fulham. He should be able to sit out these types of games and Chelsea should be able to win without him. That is what should be happening with a club that has the resources of Chelsea. They should have more high-quality central defenders at the club.  
You mentioned to me that you didn't think Disasi was ready to play at Chelsea's level. After seven games, do you stand by those comments, or have you seen any sign of improvements? 
Disasi is still learning. He isn't ready to be the leader at the heart of Chelsea's defence. He needs time. I think he will improve with every game that he plays, and I still stand by what I said. I didn't think he was ready to join a massive club like Chelsea and make the difference straight away. He played for Monaco, who are a good club, but I think for his development as a player, he should have joined a club that was a level-up from Monaco. The leap from Monaco to Chelsea is massive.  
---
On Chelsea
It's a very young team, everyone knows that. There aren't that many experienced players in the squad. Chelsea are going all in on this policy under the new ownership. There were a lot of stories that came out of the club this week that everyone is remaining calm and trusting the work that Mauricio Pochettino is doing. 
They don't have a choice. The owners don't have any other choice – they have to remain calm and stick behind Mauricio Pochettino. They have to feed these stories to the press about remaining calm because they know that they have to be patient now.  
Chelsea have spent a lot of money. When you look at the amount of money the club has spent under the new owners and the results on the pitch, the truth is that they have failed. Where are Chelsea in the table? That is not good enough for a club like Chelsea. Chelsea should be challenging the biggest clubs in the division, not languishing in eleventh after seven games.  
We know that this will be a long season. The minimum objective for the club this season should have been to finish in the top four. From what I've seen of Chelsea this season, I know that they will have problems when they play against the better teams. It will be a hard season for them. The club has to be patient and the board has to be patient with Pochettino. There is no way they can finish any lower than what they did last season. I don't know where they will end up in May, but it won't be in the top four.  
---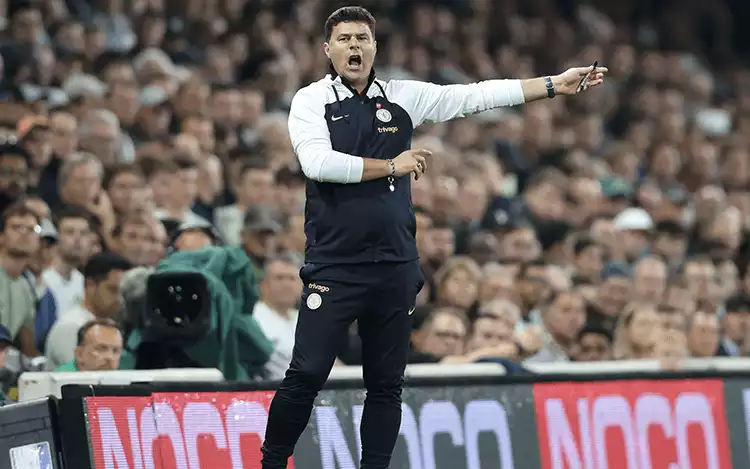 Chelsea have some tricky fixtures
---
Chelsea have got some really tricky fixtures coming up. In the next five games they will play Arsenal, Tottenham and Man City during their next five games. We'll know more about this team after those games, but I think you're right, they will struggle in those games. 
The biggest problem is that when they play against the stronger teams, they will be in trouble.  
I think the midfield will be the area where they struggle in the most when they come up against better opposition. They have great young players in there. Fernandes is an unbelievable player. If he is free and he has time on the ball, he can unlock any defence with his passing ability, but against the best teams, he will not be afforded the time on the ball that he had against Fulham.  
If they play against Tottenham, for example, with the way that Spurs are playing, Chelsea will be in trouble.  
---
On Tottenham
Tottenham recorded their first victory over Liverpool in six years, albeit in controversial circumstances. It's been a perfect start to Ange Postecoglou's Tottenham career – how would you describe it? 
He has done a good job. I think he has brought something new to the club. Look at the way he speaks to the media and his players. He is really calm during the game and he has shown a lot of human characteristics that a lot of people have responded well too.  
All of the players really understand what he wants from them. It looks like they will fight for him. For any manager, it isn't easy to manage a squad of players, and every player is always disappointed when they miss out, but it looks like he has a good relationship with all of them and everyone at Tottenham seems happy. It looks like Tottenham are going to have a great season and it will be interesting to see how they react when they lose their first game.  
Even if you're not a Tottenham fan, everyone is enjoying what Tottenham are doing this season. There is a strong connection that is being built between Tottenham and their fans after some difficult periods and that is starting to rub off on the neutrals too.  
When Tottenham play, you can see that they are giving everything. They are doing everything with full commitment at a very high level. Tottenham have been a really interesting and enjoyable team to watch this season. I think many football fans are enjoying watching them and would like to see them go as far as they can.   
I don't know if they are good enough to become champions, but I am certain they will finish in the top four.  
You're right in saying that Tottenham are slowing becoming every football fan's second favourite team this season. Ange has made a massive impact in a really short space of time, and he has done it his way. That's not easy to do.
I think he has built a really strong team and he has a lot of good people around him that are helping him. He should take a lot of the credit, but we mustn't forget to give his staff some credit too. 
---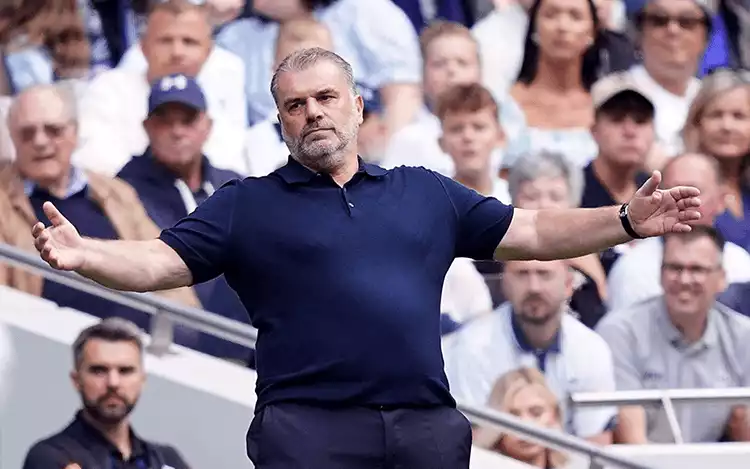 Ange making an impact
---
 I bet your friend Daniel Levy must be pleased (laughs).  
Well, yeah (laughs). He will be very pleased. Daniel is someone that is constantly under attack. At the moment he will be delighted to be second in the table playing really attractive football. It's not easy to play the football that Tottenham are playing.  
Things are going so well that the fans have almost forgot that they sold Harry Kane in the summer. The results have been so good without him.  
We've spoken about them before, but we've seen more of them now. Micky van de Ven had a fantastic game against Liverpool and looks like he has settled into the team very quickly. What have you made of his performances so far? 
Van de Ven is a really strong player. I've been impressed with how quickly he has settled into life in the Premier League because he is still a young player. I like that he keeps things simple. I like the way that he reads the danger – he did that brilliantly against Liverpool in one particular duel with Diogo Jota.  
It looks like he has formed a good partnership with Cristian Romero. When you look at the full backs, they have also started the season really well. Tottenham's defence has improved a lot. If Tottenham don't have any injuries, maybe they can do something special this season.  
Ange has made the Tottenham fans dream
I'm not sure that this team will go all the way, but they look very good at the moment. Can you imagine how much the Tottenham fans will celebrate if they could win the title? Oh my word! They would go into London and party for days.  
Stranger things have happened. Look at when Leicester won the league. Tottenham could be a big surprise, but the title favourites have to be Manchester City, even after their defeat against Wolves. City are still the strongest team in the division. What we can all agree on is that Tottenham have had a brilliant start to the season. It is probably too early to say they can challenge for the title, I don't think that they will, but the fans can certainly dream about it and a lot of that has to do with the manager.  
Son grabbed his sixth goal of the season. How impressed have you been by his performances so far? 
I think Son has really stepped up in the absence of Harry Kane. Replacing Kane's goals would have been Tottenham's biggest concern when he left. Son can score plenty of goals, but he didn't produce what we know he is capable of last season so there were always going to be doubts.  
It looks like the captaincy suits him. He seems to be thriving as the team's captain and is loving the responsibility. He is also a great example for his team mates. He is living up to everyone's expectations of him and has had a perfect start to the season.  
I hope that he can stay fit for the rest of the season because Tottenham do look a little bit short without him. 
It's not easy to replace Harry Kane. At the moment not only has he replaced Harry in terms of his goal scoring, but he has also replaced Harry in terms of his leadership and setting an example to the rest of the squad. He is doing really well at the moment and I hope that continues.   
---
On Arsenal And Manchester City
Kai Havertz scored his first goal for Arsenal when he was given the penalty at Bournemouth? What did you make of Odegaard's decision to give him the penalty? 
I thought that was a good decision. That was the decision of a gentleman. Martin Odegaard is a gentleman. That shows you how concerned Odegaard is about his team mates and the relationship that he has with them.  
He knows that it has been a difficult start to Havertz' Arsenal career. Havertz didn't score any goals in his matches so far. It was the perfect thing for a captain to do in that situation.  
It was a nice moment for Arsenal fans to see. It looks like there is a good spirit and chemistry between the players. I'm pleased for Havertz because he has faced a lot of criticism since he joined the club. 
The problem that Havertz has had, he joined from Chelsea, so some of the fans, not all of them, but some of them will need to be convinced by him. Don't forget, they paid a lot of money for him and before his penalty, he did absolutely nothing for Arsenal so far. After almost two months he did nothing. He scored his penalty, but without that, he hasn't done anything. The fans expect more from him.  
I think he is still adapting to the way that Arsenal play and his role in the team. The football is completely different (to what he was used to at Chelsea). He has to work really hard, but I'm not convinced by Havertz. I don't think he will have a good season.  
This is the last game that Rodri will miss as part of his three-game suspension 
Rodri stabilises the Manchester City midfield, so of course they will miss him. He is the connection between the defenders and the striker.   
From an Arsenal point-of-view, they would much rather play City without Rodri in the midfield. Do you agree with that? 
Of course, it is better to play against Manchester City without Rodri. They must make sure that they can take advantage of his absence. He is a player that can't be replaced. Arsenal have to take advantage and create big problems for Manchester City.  
Don't forget, Pep Guardiola is a tactical magician. He always has something magical up his sleeve. He will be aware of the impact of Rodri's absence –that is why he was so angry with him when he received his red card. City will miss his physicality and strength so perhaps he is considering playing one of his centre backs in Rodri's role. Maybe that is a role that Akanji will play for this game.  
I think that Guardiola will need one physical player in that area of the pitch to stop Arsenal.  
---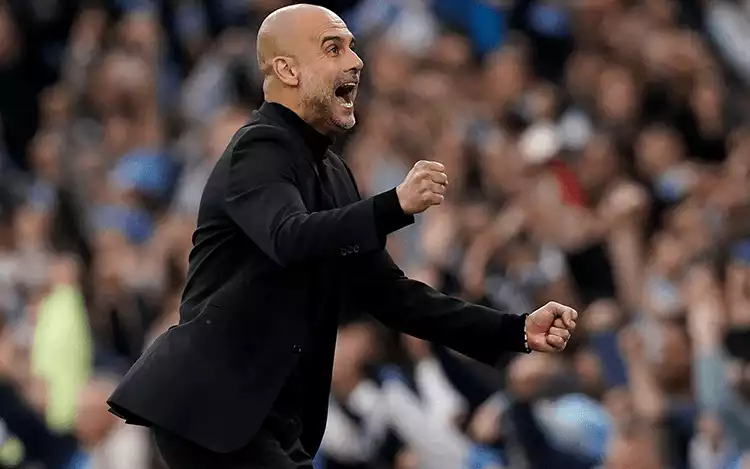 Guardiola hoping for the three points
---
Last season, you demanded that Arsenal show their balls when they went to Manchester. They wilted and lost the game – how do you think they will fare this time around? Is this a match that will tell us whether or not Arsenal are ready to challenge Manchester City for the title again? 
I think everyone would like to see if Arsenal have taken the next step in their development as a team. They want to be champions this season, and to be champions, you have to win these games against your direct rivals. They have to send a strong message to their rival and the best message is to win.  
There is no choice. If Arsenal want to be taken seriously by Manchester City, if they want to worry City, they have to win. This is a great opportunity for Arsenal. This is a great opportunity to show that they have learned from last season.  
Last season Arsenal finished second. To improve, they have to finish first this season. I don't think that Arsenal will be champions (this season). I'm not really that worried about Arsenal when they play against the biggest teams – we know they can hurt anyone. The problem is that we have to compare them to last season. They dropped too many points making silly mistakes. From what we've seen of Arsenal so far this season, it doesn't look like they have improved. Last season, they beat Tottenham home and away. They have already dropped two points against Tottenham this season. That is why they need to demonstrate they can handle the big occasion, show some balls and beat Manchester City on Sunday. They need to show Manchester City that this season, things will be different.  
I don't think things will be different. I think that Manchester City will win the title even if they lose to Arsenal on Sunday.  
Haaland had a quiet game against Wolves. He was man-marked throughout by Craig Dawson. Do you think Arteta will do a similar job on Sunday and, out of Gabriel and Saliba, which player would be better equipped to deal with Haaland? 
I think William Saliba would be better equipped at dealing with Erling Haaland if Arsenal were going to look to do something similar (to Wolves) and man-mark Haaland. Saliba can mark him properly.  
Saliba is calmer than Gabriel and, even if Haaland tries to get in his head and intimidate him, Saliba won't listen. I think sometimes Gabriel is quite an emotional player and he can get nervous.  
Martin Odegaard has had a great start to the season. Is this the type of game where he needs to make the difference to demonstrate that he is one of the league's best attacking midfielders? 
I think in this match, Odegaard needs to show his quality. We all know how talented he is, but these are the games where you're looking for your big players to step up and make the difference. These are the type of games where the top, top players show everyone that they are the best.  
We're looking for him to make a decisive contribution. He needs to score a goal, make an assist, or do both. It's simple really. That's what we judge the biggest midfielders on that have played in the Premier League in the past. If Martin Odegaard wants to be considered among the very best, then he needs to deliver in the most important games. I think this is a game for him. I think this a game that he will be desperate to demonstrate his quality in, especially without Rodri. With his intelligence, he can really take advantage of that situation.  
Arsenal beat Manchester City in the Community Shield in the summer…
That is why it will be very interesting to see if Arsenal can beat them again in the Premier League. Guardiola would not have been happy to lose that match in the Community Shield, he would have wanted to win that trophy.  
How much belief will a victory give Arsenal? 
If you can go out and beat your direct rivals, it gives you the confidence. You start to think that nobody can beat you, but it also starts to make your opponent scared of you.  
You know that you're good enough to beat any team after a win like that. The question is: do Arsenal have that confidence? It's very easy to say they have it, but now they must show it.  
I want to see Arsenal showing this confidence. I want to see Arsenal show it, not just in this game, but in one month, in two months. When they get to the top, they need to stay there. That is what we did when we won back-to-back titles with Chelsea. You need to be super consistent if you want to win the Premier League. You have to stay at the very highest level. You have to keep winning.  
---